Timeline and History Slider – Vertical and Horizontal Responsive Timeline Plugin
Current Version : 1.2
Easy to add and display history OR timeline for your WordPress website.
This plugin create a "Timeline Slider" menu tab with a custom post type to your WordPress admin side. You can add Title, content and featured image as same like WordPress post.
Vertical Timeline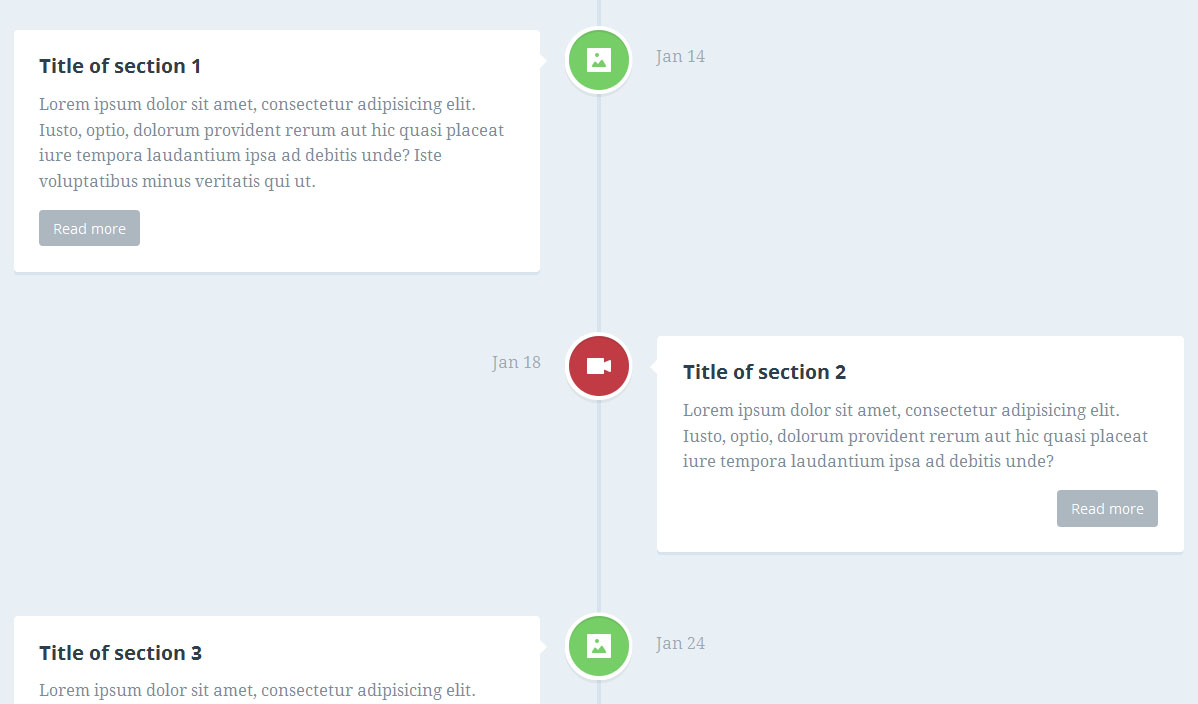 Horizontal Timeline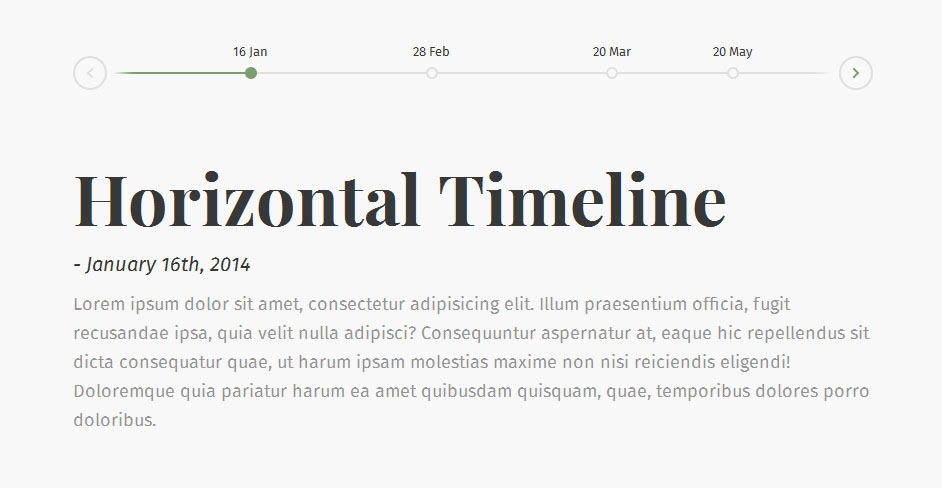 Powerful Shortcode Generator Tool
You are able to setup the plugin as quickly as possible due to the Built in Live Shortcode Generator.
Features:
12+ Designs for timeline.
Work with any themes.
Works with WordPress default Post.
Post format support for WordPress default Post.
8 Animations support for 'Vretical' timeline.
Fully responsive and mobile ready.
Unlimited Timeline anywhere.
Unlimited Timeline Color. You can set color for all or each timeline.
Vertical and horizontal support.
Classic and modern style support.
Timeline with icon support.
Drag & Drop Post to your desired order.
Various parameters for 'Horizontal' slider.
Four image position for 'Horizontal' slider. (Top, Bottom, Left, Right)
Slider RTL support.
Custom 'Read More' link.
Supper easy configuration.
100% Multi language.
Visual Composer support coming soon…
Change Log:
= 1.2 (22, Sep 2018) =
* [+] New - Added Templating feature. Now you can override plugin design from your current theme!!
* [*] Tweak - Taken better care of Post Title as image ALT tag.
* [+] New - Added 'query_offset' parameter for shortcodes.
* [+] New - Added 'include_author' and 'exclude_author' parameter for shortcodes.
* [*] Update - Sanitize functions for settings.

= 1.1 (03, Aug 2018) =
* [+] Introduced 'Shortcode Generator' functionality with Preview Panel.
* [+] Added 'extra_class' shortcode parameter in plugin shortcode. Now you can add your extra class and use it for custom designing.
* [*] Used 'wp_reset_postdata' instead of 'wp_reset_query'.
* [*] Fixed 'Read More' button issue with some design.
* [*] Fixed some designing issue.
* [*] Fixed some minor issues.

= 1.0.2 (19, Dec 2016) =
* [+] Added 'show_title' shortcode parameter to show/hide post title.
* [+] Added 'link' shortcode parameter to show/hide post link from all.
* [+] Added Custom icon functionality to upload your custom icon instead of FA icon.
* [+] Added 'Post Format' support to timeline and history slider post.
* [+] Added 'Menu Order' support to WordPress default post for custom order.
* [*] Resolved 'Timeline Slider' navigation issue with even number of slide.

= 1.0.1 (18, Nov 2016) =
* [+] Added 'How it Work' page for better user interface.
* [-] Removed 'Plugin Design' page.
* [*] Updated Font Awesome CSS to latest version 4.7.0

= 1.0 =
* Initial release.