Mobile Native Social Timeline Applications – For WoWonder Social PHP Script
WoWonder Timeline is a social timeline application for WoWonder social network, with WoWonder Timeline users can Post & Interact with users feeds and like and comment and more , now using the application is easier, and more fun !
WoWonder Timeline is easy, secured, and it will be regularly updated.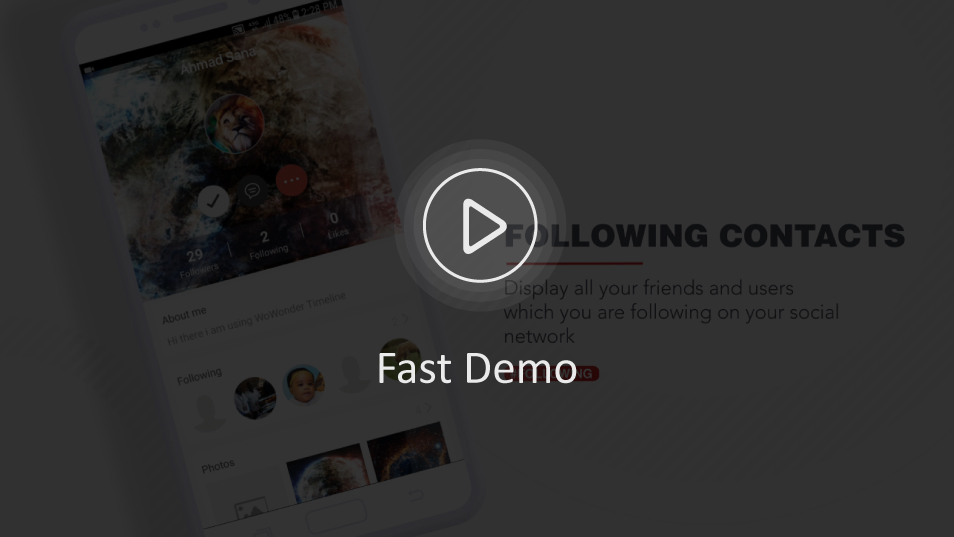 Requirements:
Minimum Android Target is V 4.2
WoWonder PHP v2.3 or higher.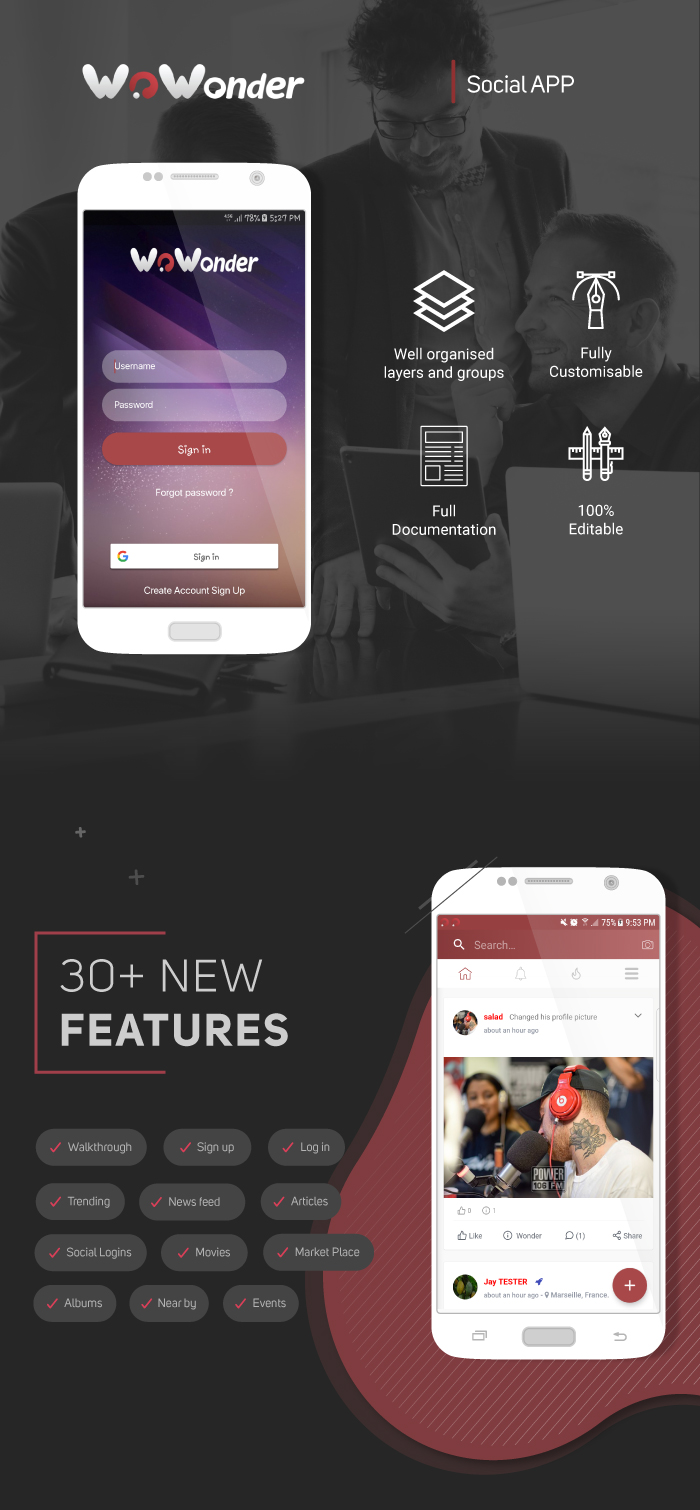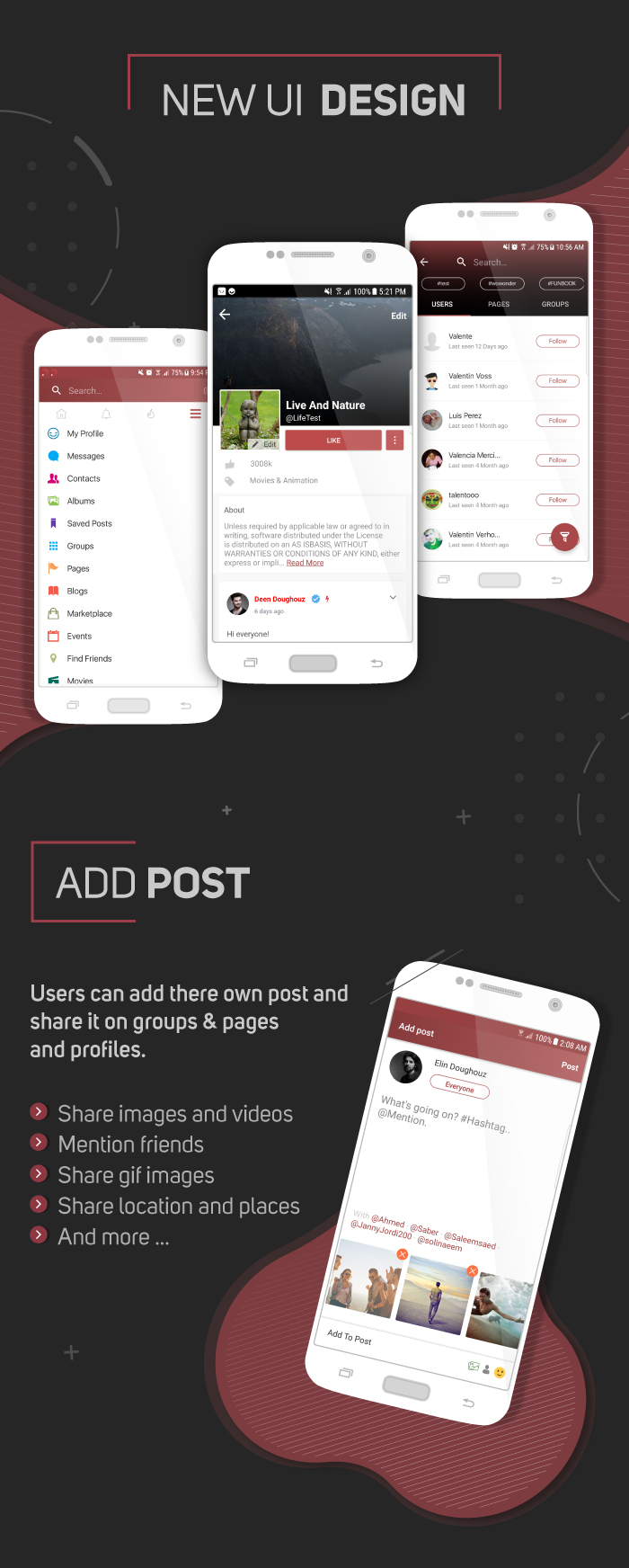 Application Features
Login Pages: Added ability to login normally and via 6 different social communities.
Welcome Page : Added ability for users to choose between register and login on welcome page.
Register Page: Added ability to register an new account.
Forget Page: Added ability for users to recover their account via email address.
Registration steps: Added ability for users to upload there Avatars and display recommended users.
Walkthrough Pages: Added ability to advertise chat application during Registration steps.
Timline Page: Added ability to see all kind of posts Text, Pictures, Videos, Maps, Feelings, and more .
Friends & Follow System: Application Supports friends system like Facebook, follow system like twitter.
Native Injection:: Added ability for users to see likes and wonders and delete and interact with post nativly.
Add Post Page: Added ability for users to add new post as text or image or video or activities and feelings.
Post Privacy: Added ability to control post Privacy.
Friends Page: Added ability to display all users friends on one page .
User Profile Page: Added ability for users to open users profile and timelines and get there information and feeds.
Comunity Page: Added ability for users to display liked pages and joined groups on one page .
Search Page: Added ability to search for users & pages and groups with ability to add or like or join during the search.
Search Filter Page: Added ability to filter search results via Avatar or Status or Gender and more.
Profile Picture: Dynamic profile picture for users.
My Images Page: Display all posted photos with users comments and likes.
Market Place: Added ability for users to get latest products and contact there owners.
Add Product Page: Added ability for user to add there own product attached with images & informations and price.
#Hashtags: Displays trending and related topics shared by users.
@Mentions: Use @username to tag people in a status or messages.
Saved Posts: User can save posts to view them later.
Delete & Edit Posts: User can delete and edit his own posts.
Save Posts: User can save posts to view them later.
Liked pages: Added ability for users to like pages and get pages feeds and action buttons .
Groups: Added ability for users to join groups and get groups feeds and informations.
Messages system: Added ability for users to chat and send messages integrated with the WoWonder Messenger v1.5.
Pro members Profiles: Added ability for users to see pro members types on each user Profile.
Notifications Page: Added ability to display all notifications with Events such as like , shared, commented, etc.
Push Notifications: Added ability for users to get notifications for users activities and more.
Friend Requests: Added ability to accept or cancel friend requests.
Trending Hashtag: Users can see last trending hashtags on left slider.
Premoted Pages: Users can see last promoted pages on left slider.
Pro Members: Users can see promoted members on left slider.
Pro Upgrade Page: Added ability for user to upgrade his account to pro member.
Settings page Added ability for user to control his privacy and settings.
Acount Page: Added ability for users to control there account password & username and email.
Help Page: added ability for users to see and read some help or about us.
Blocked users:: Added ability for users to unblock or block there friends and users profiles.
Notification settings: Added ability for users to control notifications (Led color & Sound and Vibrate) .
My Profile: Added ability for users to change there avatar & cover & informations and social links.
Handling Offline: Added ability to handel offline mode and bad connections. .
Cache system 60% of data is cached on mobile device.
Handling Image : Added ability to handle image download and cache load for more performance and speed .
Material design: Applicatiom responsive 85% in all kind of platforms Mobile, iTab, Tablets and more.
Toasts & Alerts: Added ability to display alerts , Toasts , success , errors, loadings , and more.
Integration: Added integration with WoWonder Messengers and Desktop Application and Main php script.
Empty State pages: Added Empty state pages and offline pages with easy customization.
Settings Class: Added abilty to easly install and customize and change application langush
Articles Add ability for users to read articles or blogs
Animations : add Animations on pages and items
Sync Phone contact Added Sync Phone contact list and check for available users phone numbers.
Certificate Chains: Added Certificate Chains && Secure Protocols for High secured servers.
Events: Added abilty to view and create events from the app.
Find Near by: Added abilty find near by friends using GPS.
User Status: Added abilty to create and view user status.

Updates

Android ( Stable Version 2.3.1 ) 8 November 2018

Fast scroll improvment on market.
Fixed login exeption type c.
Fixed Reported 3+ bugs.

Android ( Stable Version 2.3 ) 29 October 2018

For Main PHP scipt version 2.3 and up.
Fixed Story bugs.
Fixed Scroll on product page.
Added ability to post Polls .
increasement on Performance .
Fixed duplicated post .
Fixed Reported 10+ bugs.

Android ( Stable Version 2.2 ) 16 October 2018

For Main PHP scipt version 2.2 and up.
Fixed Story bugs.
Added full strings tranclate .
Added auto restart on crash.
Fixed profile image not loading.
Fixed onesignal issues.
Fixed Reported 10+ bugs.

Android ( Stable Version 2.1 ) 6 October 2018

For Main PHP scipt version 2.1 and up.
Added Social Logins.
Added Reaction system.
Added 10+ New Features.
Fixed Reported 20+ bugs.
New Doc Update.

Android ( Prelease Version 2.0 ) Pre-Release version

Code Rebuild from scratch.
Android SDK Upgrade to 8.1.
Secured the app for illegal uses.
Added New UI Design .
Ability to distribute app with 64-bit support.
Added Translucent view for user profiles.
Added ability to post files.
Added ability to post Music.
Added ability to post Giffy images.
Added ability to post Location.
Added ability to display cached news feed .
Added ability for offset mode.
Added Interstitial ADS.
Added GDPR & Data Privacy .
Added Story/Status and view.
Added Contact us and invite users page.
Redesign of Login and register pages.
Added settings preferences screens.
Added Animation on the tabbed pages.
Added Animation for buttons/images.
Added Oreo 8 notification channels.
Added auto link text for Emails , Mention,Hashtags
Added Image cropper and rotate system.
Added Ability to add video background.
Added Ability to delete account.
Added Ability To Report posts.
Added Interstitial Admob Banners.
Added Google Ad Sense Network system.
Added Google VAST-compliant ad server.
Added Google DFP and AdSense for Games (AFG).
Added Custom Video Player with controls.
Added Ability to watch movies offline.
Added Ability for movie Full-screen view.
Added Ability to view Badge Notifications.
Added Ability to view Last activity
Added Google Maps support
Added Native like and comment
Added post reaction system
Added new Walkthrough pages.
Added new User profile page.
Added Ability to control app fonts
Added Interstitial ADMOB Banners.
Added ability to change language from settings.
Added ability to delete stories
Added ADMOB Rewarded Video ADS
Added Garbage Collection system.
New News feed design
High Improvement on performance of the app.
Supports now all kind of Host TLS2/TLS3.
Cached Images system load and view.
Recycle views with high performance .
SQLITE Upgrade to last version.
RTL System with layout support.
Request App Permissions system.
Update Android compact to last version 7.2.1.
New Documentation 2.0.

Android + IOS ( Stabel Version 1.8 ) 12 April 2018

Upgrade IOS compatiblity to version 8
Upgrade To last version of xamarin
Upgrade SQLITE database version
IOS 1.8 release with all bug fixes
Fixed social login disable all problem
Fixed Privacy page bug
Fixed Page/Group breaking style
Fixed notification count badge problem

Android + IOS ( Stabel Version 1.7 ) 3 March 2018

Compatible with the upcomming update of WoWonder Version 1.5.5.
Compatible with the 3 new themes of WoWonder upcomming new update.
New design of the application view and style.
Added ability to login via social logins.
Added Movies page.
Added Trending page.
Added ads >> AdInterstitial.
Added ability to edit social pages.
Added ability to edit group information
Added ability to delete your own story [requested]
Added ability to edit user profile information
Added ability to view stories of type video
Display in the user's profile photos & friends & groups and pages.
Display friends requests notification on the notification tab
Settings page moved to the item list page
Ability to see notification count as badge on the buttom navigation bar
Fix "Mentions" to a friend in the Post.
Fix photo display in the Photo Gallery
Fix the display in events page.
Fix of 10+ reported bugs.

Android + IOS ( Stabel Version 1.6.0 ) 25/12/2017

1-Added Native video player for the IOS new version
2-Fixed Navigation bars for both android and IOS
3-Added Ads preview between the post of timeline
4-Changed Tab control to Bottom Navigation bar on Android with animinations
5-Add story section as New full page on the bottom bar
6-Added abilty to view ads on the Video player
7-Auto play for videos during the Scroll down
8-Added to all pages empty state pages
9-Removed social logins from the application
10-Changed the style of the market place and added curency control
11-Fixed create new password from the application
12-Fixed creating new Groups/Pages from the application
13-Added the abilty to handlle TLS 1.2 and 2.0
14-Fixed creating new Groups/Pages from the application
15-Fixed all reported bugs for both of Android/IOS

Android + IOS ( Beta Version 1.5.0 ) 24/10/2017

1-Release of IOS Timeline application
2-Fixed 4 Reported Bugs
3-Fixed crash problems
4-Ability to handel session Timeout problems
5-Full documention expalined
6-Handel Native Error 503 and 504 errors
7-Ability to control App settings more

Android ( Alfa Version 1.4.0 ) 17/10/2017

1-Fixed 13 Reported Bugs
2-New design similar to facebook timeline using tabs and custom bars
3-improving the loading of posts speed to 50% faster
4-Added Profile and pages Header animations similar to facebook
5-Animated Story view for Users status
6-Added Ability to post on groups and pages
7-Added Ability to Create new groups and new pages from the mobile app
8-Added publisher box on top of timeline app
9-Added Ability to add AdMob banners
10-Added Ability to view ads from the main website advertisement system
11-Added share button on every post
12- Added Full push notification system
13-Added ability to view all Users stories on the main timeline
14-Added ability to view multiple Stories for each user
15-Added ability to create Stories from the mobile application
16-Refresh the timeline by pull button
17-Added ability to view all events on the social website
18-Added ability to view my own events
19-Added ability to create events from the application
20-Added ability to join events and decline from the application
21-Added New costum navigation bars
22-Added new walkthrough pages after login
23-Added ability for GPS Locater signal

IOS Version 1.2.0( Still Under Development )

Android ( Stabel Version 1.2.0 ) 18/1/2017

Add multilingual system with auto detect android languish
Add Empty state Pages
Add Full Documentation install and errors solving .
Add ability to Handle Errors 404 and 505 and 402 To the hybrid post viewer.
Add ability to handle bad connection and slow connection on post viewer.
Increased speed of loading post on the main timeline to 50% .
Add Native Try Again on post viewer .
Add RegisterCallback Control-Click on JavaScript bridge on Post viewer.
Solved all login and logout bugs .
Fixed 9 reported bugs on pages and crashes.
Downgrade the android version to 4.4 to work on old devices.